Research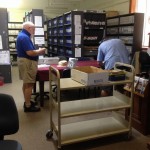 The Research Centre contains a wealth of information for both local history and family history researchers. Some of the information in our files is accessible through searchable Indexes, developed by our volunteers.
For visitors who wish to carry out personal research, the Research Centre is open on Wednesdays from 10am to 4pm.  It may be possible to arrange an appointment outside these hours by phoning or emailing the Society in advance.
Written research requests are also accepted. These are completed by volunteer researchers. A fee of $25.00 is imposed for each topic researched. To request research on your behalf, simply print out and complete the Written Research Request Form and forward to the Research Centre with payment.
There is an email address for requests and the form can be sent to this address as an attachment: research@richhistory.org.au
For requests from outside Australia please use the Written Research Request Form – Overseas.
Results of requests, prepared by volunteers, can take six to eight weeks.
Personal Visits – Wednesday 10am – 4pm
Non- members – $5 per hour for the first two hours.  $15 if more than two hours
Members – $5 per day for personal research
Commercial research – $30 per day for any researcher
Extended Research Privileges – Granting of privilege and fees subject to arrangements with Research Co-ordinator. $50.00 is the minimum charge, for a maximum period of one year.
Students aged 18 and under – Free
Written Enquiries
$25 per enquiry includes around 5 photocopies plus p&p
$5 for copy of a death notice/obituary
Other Fees

Photocopies – 30c for A4 and $1 for A3
Scanned image of a document or photograph $8 + $1 for CD + $3 p&p
Image of RRHS photograph taken with researcher's camera, etc – $4
Image of RRHS document taken with researcher's camera, etc – Free